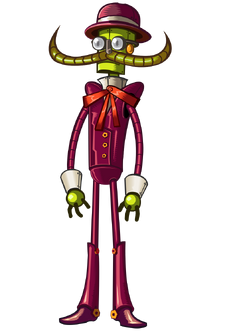 Dandy Alexander is an aristocratic Steambot that arrives in Tumbleton after Rusty's mining boosts the town's economy. He is the owner of an advanced upgrade outlet and speaks in a royal British squeal. Once unlocked at Level 13 ($5300), he will sell upgrades at the third and last shop.
Appearance
Edit
Dandy is a posh, green coated Steambot with a purple coat and hat. His coat has an oddly made red ribbon on it.
Appearances
Edit
Information on what Dandy sells in his shop can be found on the Buyable Upgrades and Items page.