Welcome to the SteamWorld Wiki!
Dedicated to all things SteamWorld such as SteamWorld Dig and SteamWorld Heist -- A world where most of humanity has succumbed and friendly steam-driven robots inhabit a post-apocalyptic wasteland... or space if you're talking hundreds of years later. Please feel free to edit this Wiki as long as it's relevent to the SteamWorld franchise. The game SteamWorld Tower Defence is not currently covered on this wiki, but may be in the future.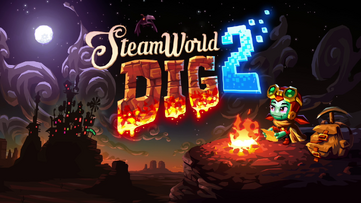 News related to the SteamWorld franchise and its developer Image & Form. The most recent 7 are being displayed.
May 9th 2017 - SteamWorld Heist's soundtrack is receiving a vinyl. It can be bought in two editions; autographed ($40) and not autographed ($30).
April 13th 2017 - Image & Form have began ambassador challenges again, this time for SteamWorld Dig 2. It involves naming a robot that arrives in El Machino and if you win, you'll receive free copies of SteamWorld Dig 2.
March 17th 2017 - A demo For SteamWorld Dig 2 will be playable at EGX Rezzed, which takes place from the 30th March - 1st April.
March 6th 2017 - Reminder: The recently announced SteamWorld Dig 2 will be playable at PAX East from March 10th - 12th. There will also be some special SWD2 'swag' being handed out.
February 28th 2017 - SteamWorld Dig 2 has been announced, and is slated for a summer release as a Nintendo Switch timed-exclusive. It marks the return of the original's gameplay and will feature Dorothy as the protagonist. It is also supposed to be much longer than the original.
December 23rd 2016 - 2017 is set to be the 20th anniversary of Image & Form. The SteamWorld Ambassador Challenges are set to return and "SteamWorld Project 2017" is going to be playable at PAX East.
November 23rd 2016 - SteamWorld Heist has been temporarily put on hold for Xbox One and Android, in order for Image & Form to work full force on the next SteamWorld game.
For archived news, click here.
Are you happy with the announcement of SteamWorld Dig 2?
Create blog post
Blogs
Hi everybody! I recently puchased SteamWorld Heist so expect a lot of articles to start being updated in the coming weeks. There have also been rumors going around about a 'SteamWorld Quest', and whilst these may not be true, it has been almost two years since Heist was announce, so we'd better be …

Read more >
See more >
Ad blocker interference detected!
Wikia is a free-to-use site that makes money from advertising. We have a modified experience for viewers using ad blockers

Wikia is not accessible if you've made further modifications. Remove the custom ad blocker rule(s) and the page will load as expected.